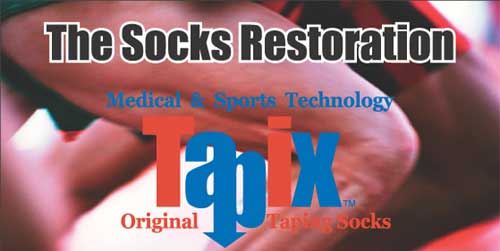 The Tapix is a sock that is based on the taping theory
The new product is designed to reduce the risk of having ankle sprain and relapse of it, and to help you recover from your fatigue of leg and foot. It is ideal for the athletes who are at risk of ankle sprain as the result of their intensive exercise, the drivers who want to recover quickly from their leg and foot fatigue that is caused by driving for a long time.
---
//The outstanding function//@

---
Japanese Utilit Model Application No.2002-3618 US patent FUS6,805,681 B2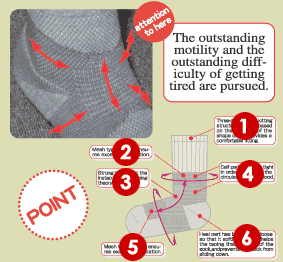 y1z@Three-dimensional kitting structure, which is based on the analysis of the shape of calf, provides a comfortable fitting.

y2z@Mesh type knitting ensures excellent ventilation.

y3z@Strong tension at the instep puts the taping theory in practice.

y4z@Calf part has been tight in order to improve the circulation of the blood.

y5z@Mesh type knitting ensures excellent ventilation.

y6z@Heel pat has been made loose so that it softly holdsheel, helps the taping theory effect of the sock, andprevents the sock from sliding down.
---
//The taping technique is applied.//
---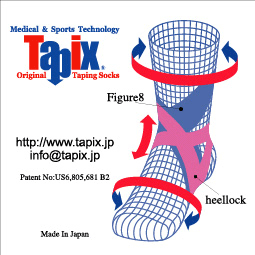 Name/Tapix(Taping Socks)
Size/SSi21'ƒ'`23'ƒ'j


Si23'ƒ'`25'ƒ'j


Mi25'ƒ'`27'ƒ'j


Li27'ƒ'`29'ƒ'j

¦Length (height) and the size
and the color, etc. can be customized.
Made in Japan